The Saudi Pro League managed to snag another superstar from Europe when it was announced that Al-Hilal would be signing Brazil's leading goal-scorer Neymar from French club Paris Saint-Germain.
Neymar, as recently as last year, almost single-handedly took Brazil to the World Cup quarter-finals before a penalty shootout saw Croatia going through. From that moment, to now a transfer to Saudi Arabia at the age of 31 has seen the world of football alter itself in unimaginable ways. Cristiano Ronaldo, Karim Benzema and Neymar were considered elite entities in European football; now they reside in the Saudi Pro League.
The movement of football's stars to lower leagues than those in Europe is not unheard of – especially when they head to the Chinese Super League or Major League Soccer. But there is one significant difference that has made this latest migration of footballers stand out.
It is expected that Ronaldo, aged 38, plays in Saudi Arabia. It is expected that Lionel Messi, aged 36, is playing in the USA. What is not expected, though, is the movement of footballers still in their prime and with a chance to win major trophies in Europe moving to Saudi clubs on the promise of large sums of money.
Astronomical salaries
Sadio Mane, Riyad Mahrez, Edouard Mendy, Jordan Henderson and Fabinho were major players in the Premier League over the past five years. All of them were instrumental in title battles that caught worldwide attention. Now they find themselves in Saudi Arabia.
The same goes for players like N'Golo Kante and Wesley Fofana, mainstays in the French national team, who are now embedded in the Saudi league. Marcelo Brozovic started in the World Cup semi-final for Croatia against Argentina last year and started for Inter Milan in the Champions League final against Manchester City this year. He is now playing with Ronaldo for Al-Nassr at the age of 30.
The chief reason for the migration of this subset of players is the salaries on offer in the Saudi Pro League. Ruben Neves, a Portuguese central midfielder, was being paid a reported 4 million euros a year by Premier League club Wolverhampton Wanderers last year. Now at Al-Hilal, Neves will be making a reported sum of 12 million euros a year on a three-year contract. Neves, at 26, was being touted to join some of Europe's top clubs including Barcelona, but chose Al-Hilal instead.
Advertisement
It isn't just players, but the coaches as well. Nuno Espirito Santo and Slaven Bilic are proven managers in top European leagues. Steven Gerrard brings star power to the coaching side as well.
The Saudi Arabian Football Federation is reportedly in talks with Roberto Mancini to become the head coach of their national team. Mancini resigned as Italy manager on Sunday after a five-year tenure. His time with Italy brought a Euro 2021 title but also a failed campaign to qualify for the 2022 Qatar World Cup.
The Saudi business model
Unlike the Chinese Super League or the MLS, the Saudi Pro League has clearly targeted not just the top names in football but also mid-tier players who are clearly good enough to be in the upper echelons of European football.
AdvertisementREAD | Can oil-money buy football dreams? As European football season beckons, the cash-rich shadow of Saudi Pro League looms large
Simon Chadwick, professor of sport and geopolitical economy at SKEMA Business School, told Al Jazeera that this move of Saudi Arabia to create a hub of all types of football players was aimed at building their football clubs for the future.
"Saudi Arabia wants to generate inward investment funds … from US private equity investment or investment from elsewhere in the world – and to make the clubs attractive they need to transform them to become more viable commercial propositions."
Until recently, the business model of the average Saudi club was to be under the aegis of its Ministry of Sport and rely on the state's financial backing. This meant that clubs ran on annual budgets, rarely focused on infrastructure and organic growth, and were not sustainable as businesses.
Now, the Saudi state wants its earnings to be outside of the oil market. This policy move of the state has seen the Public Investment Fund (PIF) enter multiple sports, including golf where the PGA Tour was acquired by the PIF. Recently, it was announced that four football clubs – Al-Nassr, Al-Hilal, Al-Ittihad and Al-Ahli would come under the Kingdom's sovereign wealth fund. While it's clear that all four clubs have the same owner, the move has been made to privatise these clubs in the future and make them sustainably-run football businesses that can attract foreign investment.
READ | Why has Cristiano Ronaldo not fired in Saudi like Lionel Messi has in MLS?
The signing of a player like Neymar fits the profile of what the Saudi Pro League should look like, according to its owners. Each club has a figurehead – the likes of Ronaldo and Benzema – who is supported by a bevy of other formerly-Europe-based players, and the remaining places are taken up by players already featuring in the league.
Advertisement
In some ways, Neymar bridges the gap between the likes of Ronaldo and Benzema and the likes of Kante and Mahrez. The latter two are considered superstars and are still only 32. Al-Hilal initially wanted Messi and even made an audacious bid for Kylian Mbappe, but failed to acquire either player.
Neymar represents a win, even though he hasn't really scaled the heights he was predicted to reach. Neymar's potential, be it at European club stage with Barcelona and Paris Saint-Germain, or with Brazil, never really lived up to the expectations that were tacked onto the attacker. In the Saudi kingdom though, he can become an essential cog in a larger plan to build football as a business.
Advertisement Top Sports News Now
'The name of the game is intimidation': Hungry Gukesh takes on resurgent Magnus Carlsen
Neymar joins exodus from Europe for 'greener' pastures in Saudi Arabia
Mr 360 to Mr 180: How Suryakumar Yadav played T20 like ODI finisher
Click here for more
Box
Also Read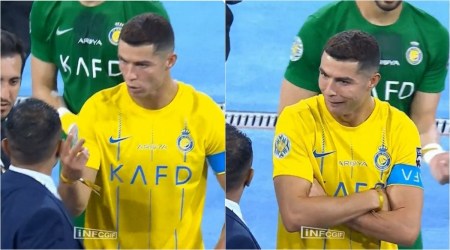 Watch: Cristiano Ronaldo looks bemused after being snubbed for player of ...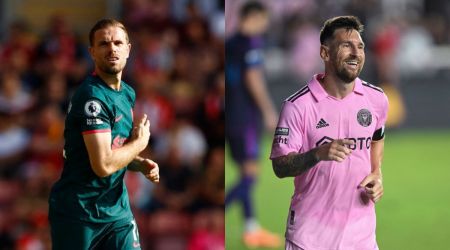 'Can't understand why coming here would damage Henderson's legacy and Mes...
Jose Mourinho substitutes Roma player, forces his own team to play with 1...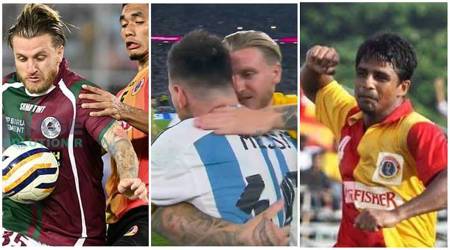 'Mohun Bagan World Cupper Cummings just played with Messi but is nothing ...
Ronaldo, Benzema and Neymar might be top players in the Saudi Pro League, but it's the supporting cast that has joined them in the gulf state that raise eyebrows.
Cristiano Ronaldo – Al-Nassr
Neymar – Al-Hilal
Karim Benzema – Al Ittihad
Sadio Mane – Al-Nassr
Riyad Mahrez – Al-Ahli
Roberto Firmino – Al-Ahli
N'Golo Kante – Al-Ittihad
Seko Fofana – Al-Nassr
Allan Saint-Maximin – Al-Ahli
Kalidou Koulibaly – Al-Hilal
Sergej Milinkovic-Savic – Al-Hilal
Edouard Mendy – Al-Ahli
Jota – Al-Ittihad
Ruben Neves – Al-Hilal
Jordan Henderson – Al-Ettifaq
Frank Kessié – Al-Ahli
Marcelo Brozovic – Al-Nassr
Fabinho – Al-Ittihad
Alex Telles – Al-Nassr
Malcolm – Al-Hilal